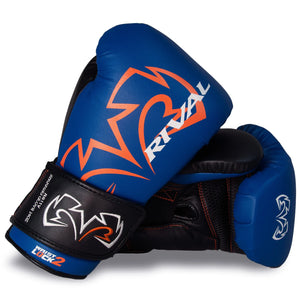 When this glove first came to be some 10 years ago, we had no idea it would become the best selling sparring glove in our history. Aptly named the "Evolution", this glove has changed the market's way of designing sparring gloves. With never before seen features, the RS11V was the first of its kind to use Rival's now-famous, indestructible super-rich microfibre PU. It was also among the first gloves in the Rival collection to incorporate the innovative dual angle, V-Strap Wrist Lock 2 System. This glove truly is the epitome of the Evolution of sparring gloves.
FEATURES
Outstanding Fit With a Large Hand Compartment
Soft, Padded Inner Lining
Rival's Trademark 15° Angle Cuff
Rival's V-Strap Wrist Lock 2 System
Super-Rich Microfibre PU Construction
Extra-Thick, 2" (50mm) Layered Foam Padding Specifically Designed for Intense Sparring Use
AirFlow Control System
Embroidered and Printed Rival Graphics
WRIST LOCK 2
True to the philosophy behind Rival Boxing, we have a constant and consistent desire to evolve, improve and innovate. Our years spent "on the field of play" continues to drives us to go the extra step and make products that revolutionize the industry; Hence the development of the Wrist Lock 2 system.

Inspired by the success of its big brother, the Original Wrist Lock, Rival took their innovative thinking to the next level. Instead of remaining on the path of one dimensional adjustment, Rival invented the dual angle V-strap. Attaching to both the thumb side of the glove and the opposite side through a loop, the Wrist Lock 2 ensures that both sides of a glove, from the thumb all the way down the cuff, are squeezed equally when securing the strap. This is tantamount to tape being placed over the cuff of a professional fight glove.

Rival Boxing firmly believes that this system results in the closest replication possible of the comfort and stability of a fully laced glove, in a Hook & Loop glove.
Rival RS11V Evolution Sparring Gloves Sizing
Boxer's Weight

Hand Circumference (Without Wrap)

Glove Weight

90-120 lb
(41-55 kg)
5.5" - 6.5"
(14 cm - 16.5 cm)
12 oz
120-150 lb
(55-68 kg)
6.5" - 7.5"
(16.5 cm - 19 cm)
14 oz
150-185 lb
(68-84 kg)
7.5" - 8.5"
(19 cm - 21.5 cm)
16 oz
185 lb & over
(84 kg & over)
8.5" - 9.5"
(21.5 cm - 24 cm)
18 oz