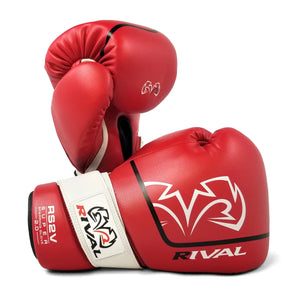 Re-adjusted ergonomic hand compartment to offer a better fit than before and a perfect fist. 

The RS2V Super Sparring Glove is a professional choice for the rigours of all the training you can throw at it. Excellent protection, an improved hook & loop wrist support with its angled Ergo Strap Xtreme System, this glove remains one of the "best value for money" pieces of equipment that we offer.
A great choice for a professional quality glove with hook and loop adjustments.
FEATURES
Made of Super Resistant Microfibre;
Multi-Layered Foam Padding;
Rival's Angled Ergo Strap Xtreme System;
Conic Cuff Design;
Soft, Foamy Cloth Inner Lining;
Printed Rival Graphics;
Rival Silicone Patch on the Strap.